Not everyone can deal with anger in the brightest of ways that is why rage rooms are so popular today. Rage Room is a new alternative to fight stress. It's a room in which you can simply destroy all the objects you see. Best Rage Room in Canada allows you to let off steam in a safe, framed environment, to the sound of your favourite music.
The principle: You enter a secure and supervised room, with a bunch of objects that you can break with appropriate equipment. A shrink can even "guide" this new form of therapy… by breaking.
Relaxing while destroying is the credo of the "rage rooms" that currently exploding in Canada. And remember: your imagination is the only limit.
Ontario
Orillia
Ottawa
Scarborough
Nova Scotia
Halifax
Quebec
Montreal
Alberta
Edmonton
Calgary
British Columbia
Vancouver
Saskatchewan
Regina
The modern man in a megapolis leads an active life, which can be surrounded by irritants and stresses from different angles. Having accumulated all the negativity received during the working day, some spew it out on relatives, surrounding objects, shouting and smashing plates and furniture in their own home.
To avoid these situations, Rage Rooms have been set up.
What is the rage room?
Rage room' is a radical new word in the field of psychological discharge. It is a special place where people come to de-stress in unusual ways, destroying furniture and appliances and smashing plates against the wall.
Each session has its own story, and it is unique:
furniture is decorated with thematic writing;
plates are painted according to the theme of the rage room;
in part, the furniture may be painted in colours which, from a psychological point of view, encourage a more open expression of destructive emotions.
This way of dealing with stress is universal for both men and women.
Rooms of rage, or more politically correct, rooms of psychological relaxation are rooms where people are given the right to smash furniture and office equipment and break plates for a fee.
The point is simple: it is the modern man's way of relieving himself of the stress he accumulates at work or in his relations with loved ones. After a crash session lasting only 30-45 minutes (according to scientists, this is more than enough), a visitor leaves the room as good as new – no hard feelings, no anger, no emotions. All the anger and rage was gone with plates, vases, chairs, and monitors.
The first rage rooms appeared in the United States back in 2008 and are now hugely popular. In these rooms, you were able to arm yourself with a baseball bat and smash everything in sight. Club managers came up with the idea after they allowed customers to smash plates on a prepayment basis. In Canada, the trend came a little later, but also found its adherents. Mainly, stress-relief rooms began to appear in big cities.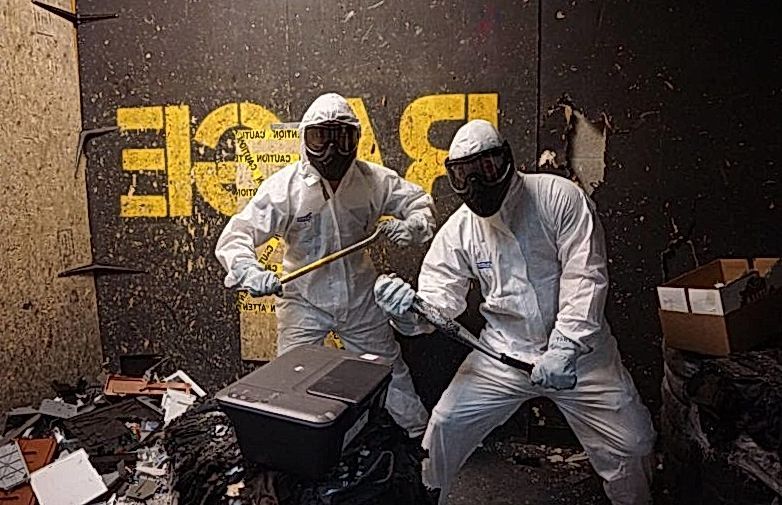 Rage rooms in Canada
The usual choice for a rage room is a budget semi-basement, preferably with good soundproofing and with no neighbours. Guests are offered protective attire and an extensive smash menu. For example, customers of Canada's Smash Room in Toronto can choose a "menu" of plates for $1 Canadian, mirrors for C$3, chairs for C$15, or printers for C$15-25. You can also bring your own bag of junk and destroy it for C$10. The most popular places for such activities in Canada are also Rage Room (all information you can find on Instagram Battlesports), and The Break Room, located on 102 Younge St.Toronto, ON I0A 2M8.
The idea, let's be honest, is an interesting one. The main thing is to keep it safe and to have a doctor on duty on the premises, but otherwise, smash and break.